A Week in 7 Colors: French! In Interaction and Play
September 6, 2018 @ 2:30 pm

-

September 13, 2018 @ 5:30 pm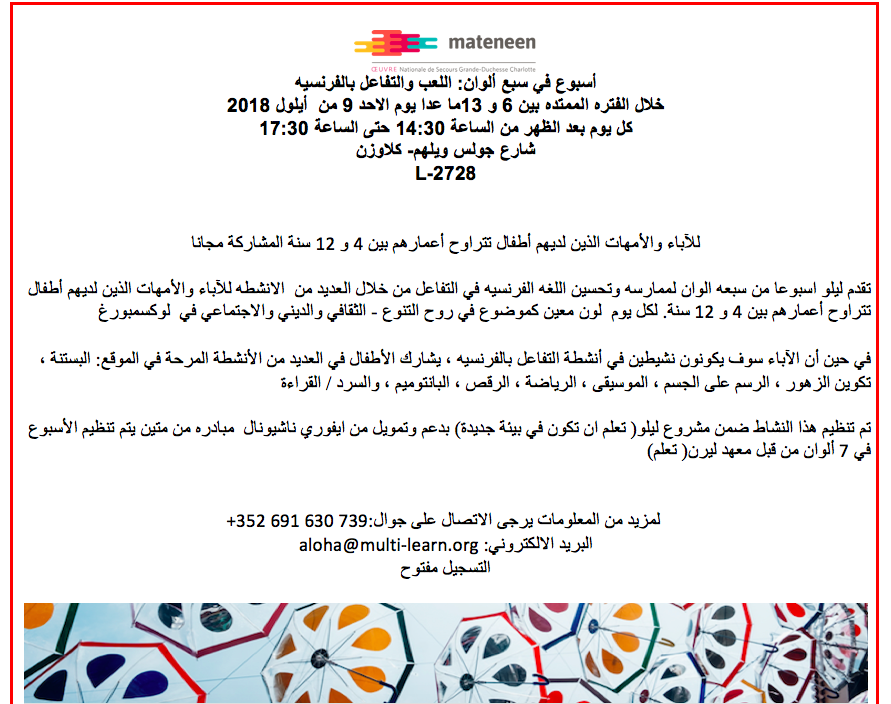 The LEILU week in 7 colors proposes to practice and improve French in interaction – through various activities for parents with children between 4 and 12. Every afternoon has a specific color as a theme in the spirit of the diversity – cultural, religious, social … of Luxembourg.
While the parents will be active in French-in-interaction activities, the children participate in multiple playful activities on site: gardening, floristic composition, body painting, music, sports, dancing, pantomime, and narration / reading.
This activity is organized within the project LEILU (Learning to be in the new environment), supported and financed by Œuvre Nationale de Secours Grande-Duchesse Charlotte (https://www.oeuvre.lu/), mateneen initiative.
The week in 7 colors is organized by the multi-LEARN Institute. For more information and registration, please contact Edna: aloha@multi-learn.org | mobile: +352 691 630 739.
A Week in 7 Colors: French! In Interaction and Play