Learning over dinner – "Why should we hire you?"
June 11, 2019 @ 6:30 pm

-

8:30 pm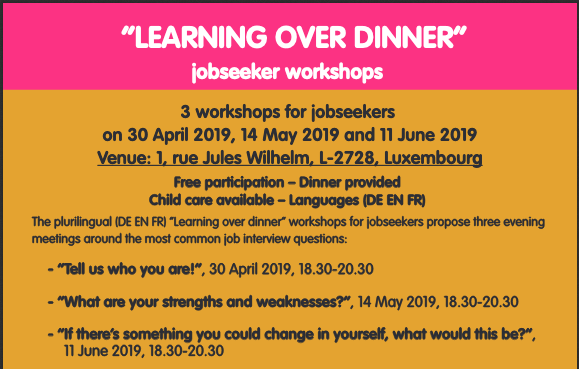 The plurilingual (DE EN FR) "Learning over dinner" workshops for jobseekers proposed an evening meeting around one of the most common job interview questions:
"Why should we hire you?"
Participants with all backgrounds were welcome, as an active participant or observer. Light dinner was provided.
Each workshop was organized as a two-step activity:
DISCUSSION on the most common job interview questions and tips on how to present yourself and your "talents" in a job interview situation. By "talents" we mean competences, abilities, skills, interests, etc.
SPEED INTERVIEWS : organization of participants in groups of 3 or 4 with one facilitator per group. All participants must answer the same question in a given time. The facilitator will provide feedback on the content, structure, clearness, concision and diction.
The workshops are organized by multi-LEARN Institute as part of Project LEILU within the framework of mateneen, financed by the Œuvre Nationale de Secours Grande-Duchesse Charlotte.
Learning over dinner – "Why should we hire you?"